Lucky Lady Slots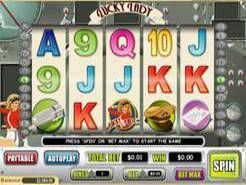 If you're a Frank Sinatra fan, you may remember his popular hit "Luck Be a Lady Tonight." But what you may not know is that Dolly Parton wrote a song called "Hey Lucky Lady" as well. In fact, several songs have been written with the title "Lucky Lady!" While Sinatra's rendition is more in keeping with our tribute to Lucky Lady Slots, we thought this would be a great lead-in to our salute to Lucky Lady Slots, one of the most played and most popular slots available at online casinos.
Lucky Lady Theme Factoid
Since Lucky Lady Slots has a military theme, here are some facts about the aircraft itself. Lucky Lady I was one of two B-29 Superfortresses that made a round-the-world trip in July/August 1948, from Davis-Month Air Force Base in Arizona. It completed the 20,000 mile flight in 15 days, making eight stops en route. The total trip took 103 hours and 50 minutes. Lucky Lady II and III made similar round-the-world trips in less time.
Lucky Lady Slots Facts
Lucky Lady Slots is a 5-reel, 25-payline bonus video slots with 27 winning combinations. With a jackpot of 1000 coins, the coin size ranges from 1¢ to $10, with a maximum bet of $250. Of course, the symbols reflect its theme and include the Lady, Star, Plane, Bombs, Gauge, Hat, Letter, Insignia, and cards Ace through Nine. Lucky Lady Slots has the Lady as the wild symbol and the Star as the scatter symbol. There is a bonus round feature as well.
Lucky Lady Bonus Symbols
The Lady symbol will appear on reels 2, 3, and 4 and substitutes for all other symbols except the Plane symbol. When 3 or more Plane symbols appear, you can win up to 3 bonus rounds. The Star is the scatter symbol and if you get 5 stars, you can win 100x your bet. If you get 5 gauge symbols, you can win 1000 coins; 5 bomb symbols pay 750 coins, and if you get 5 letter symbols, it will pay out 600 coins.
Bonus Round
One of the exciting features of Lucky Lady Slots is the bonus round. When you get 3 or more Plane Symbols, you will be taken to a second screen where you can play up to 3 bonus rounds. In each bonus round, you will be asked to select from five places, with each plane revealing a prize, which can be up to 100 times your bet. All bonus round prizes are added to payline and scatter wins!
Play to Win
While the maximum bet is $250, there are no hard and fast rules that say you have to bet the max. The denomination range allows you to bet according to your budget. Suffice to say, however, betting the max will afford you the highest payouts and Lucky Lady Slots pays out big!
Off You Go Into the Wild Blue Yonder
Whether you are a history buff, or simply love slots featuring fabulous bonus rounds; Lucky Lady slots will provide hours of enjoyment. You can play Lucky Lady Slots at Liberty Slots casino .